Stub
This article is a stub. Please help the wiki by expanding it. Thank you!
Uranus
is the seventh planet from the Sun.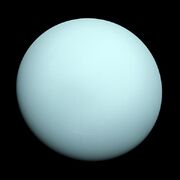 Like the other giant planets, it has a ring system, a magnetosphere, and numerous moons. Uranus is the only planet whose name is derived directly from a figure from Greek mythology, from the Latinised version of the Greek god of the sky Ouranos.