The ancestors of the Lipizzaner can be traced to approximately A.D. 800. The earliest predecessors of the Lipizzaner originated in the 7th century when Barb horses were brought into Spain by the Moors and crossed on native Spanish stock. The result was the Andalusian horse and other Iberian horse breeds.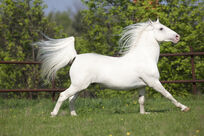 By the 16th century, when the Habsburgs ruled both Spain and Austria, a powerful but agile horse was desired for both military uses and for use in the fashionable and rapidly-growing riding schools for the nobility of central Europe. Therefore, in 1562, the Habsburg Emperor Maximillian II brought the Spanish Andalusian horse to Austria and founded the court stud at Kladrub. In 1580, his brother, Archduke Charles II, established a similar stud at Lipizza (now Lipica), located in modern-day Slovenia, from which the breed obtained its name.
Kladrub and Lipizza stock were bred to the native Karst (Kras) horses, and succeeding generations were crossed with the now-extinct Italian horse breed Neapolitan and other Baroque horses of Spanish descent obtained from Spain, Germany, Denmark. While breeding stock was exchanged between the two studs, Kladrub specialized in producing heavy carriage horses, while riding and light carriage horses came from the Lipizza stud.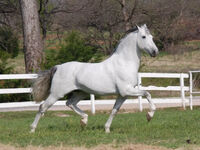 Beginning in 1920, the Piber stud, near Graz, Austria, became the main stud for the horses used in Vienna. Breeding became very selective, only allowing stallions that had proved themselves at the Riding School to stand at stud, and only breeding mares who had passed rigorous performance testing.